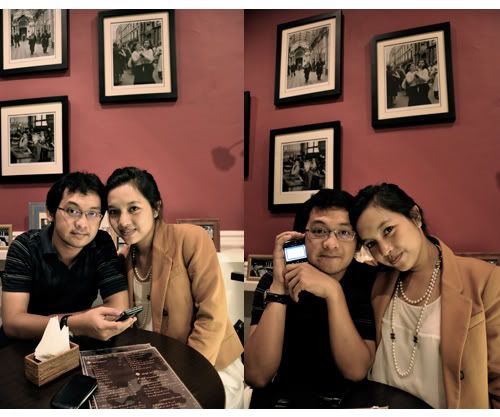 Today was totally fun cos I had great quality talks with my beloved men, my brother(aron) and my hush. after doing different things in the morning, we decided to meet up together in the evening and watched movie, "
the public enemy number 1 (part 2)
", and I guess I still love the first part cos the movie story got same taste with the previous one, so I cud guess the story slots :)
after watching movie, we ended the trip at

Sabang 16

, a small cafe with french touch. I started to share my grievances and sadness lately, and I was kinda teary that they gave some courage solutions with the package of their usual funny chinwag and I feel that they never let me down. I know I always count on them. I realize that my brothers, my hush and dad have the similar ways to see things and overcome problems. they are typically family men, very good at saving, patient, well-behaved, humorist, and any other things that I cannot describe with words.
I felt so good after sharing some thoughts with them and so grateful having them in my life. we captured many pictures, some of them were candid, others were intentionally captured with simulated actions, then in the end, It always turned out funny.
I hope I cud always feel the feeling like this in my life and hope you guys got the same grateful feelings surrounded by loved ones too.
Happy Sunday.Kisses.